Peleus
Studien zur Archäologie und Geschichte Griechenlands und Zypern
Herausgegeben von Reinhard Stupperich und Heinz A. Richter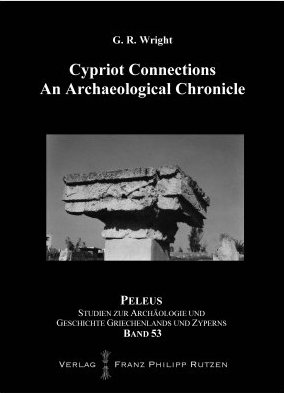 Band 53
G. R. Wright, Cypriot Connections: An Archaeological Chronicle
(2010) 219 Seiten Text, 13 Tafeln und 122 Abbildungen, A4, hard cover, ISBN 978-3-447-06301-2, € 39.90-, online bestellen
This collection of papers by G. R. H. Wright has been chosen so as to encompass every designated period in the archaeological classification of Cypriote antiquity; as also to illustrate modern concerns with Cyprus in antiquity.
The papers were written by one who kept up a residence in Cyprus across half a century or more, in principle the latter half of the 20th century during which time Cyprus was smitten with change. The collection thus represents a poor scholar's tribute to the personality of the Island of Cyprus and to its long and idiosyncratic history, to its powerful personality. Cyprus is a land of astounding variety in a narrow compass: quiet coastal plains, embattled mountain ranges, desert tracts and a snow capped massif. These landscapes sound many tones, but one deeper tone is sustained, recognised by the ancients as the 'Cypriote Character'.
The papers are chosen for their variety of subject. They include studies of the history of ceramics, studies of the history of building and studies of the history of religion, as also studies of political history and studies of legal history. The papers are arranged in chronological order, extending over a duration of ca 10,000 years. Thus they afford some idea of the Cypriote character as it has endured across the ages.