Peleus
Studien zur Archäologie und Geschichte Griechenlands und Zypern
Herausgegeben von Reinhard Stupperich und Heinz A. Richter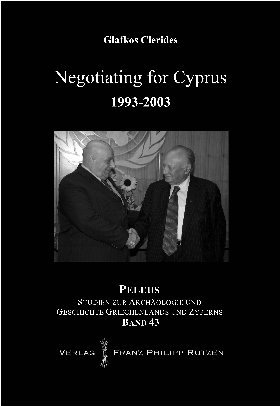 Band 43
Glafkos Clerides, Negotiating for Cyprus 1993-2003
(2008) 192 pages, 39 b/w photos, 8°, hard cover, ISBN 978-3-447-05989-3, € 30, online bestellen
In this book Glafcos Clerides, President of the Republic of Cyprus from 1993 – 2003 describes his negotiating strategy for Cyprus' successful accession to the European Union as well as his efforts to find a settlement to the long-standing Cyprus problem to bring an end to the division of the island.
The book describes in detail what went on behind the scenes during this process and contains many official documents published for the first time, thus providing all those with an interest in Cyprus, be they researchers, diplomats, journalists or laymen with the invaluable insights of a Cypriot statesman, now 89 years old, who has been deeply involved in the island's recent history from the early-1950s to date.
For all those interested in negotiating strategy the book provides a manual of how the negotiating process works in practice, in a situation such as that of Cyprus, where a conflict between two ethnic groups is impacted upon by the two "motherlands" and the international community.