Peleus
Studien zur Archäologie und Geschichte Griechenlands und Zypern
Herausgegeben von Reinhard Stupperich und Heinz A. Richter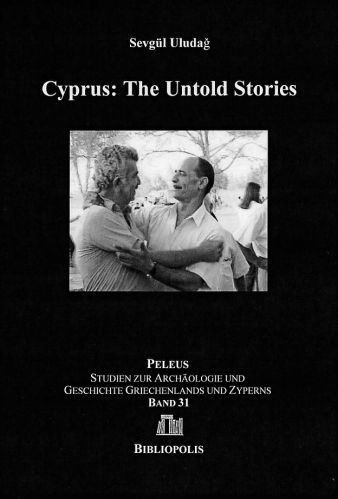 Band 31
Sevgül Uludağ, Cyprus: The Untold Stories
(2005) 120 Pages, 8°, hard cover, ISBN 978-3-941336-27-8, € 21.50, online bestellen
This book contains untold stories from both parts of Cyprus, stories from both sides of the "Green Line" dividing the island, i.e. stories witnessed by Turkish Cypriots and Greek Cypriots. The stories speak about missing persons and mass graves, about human rights abuses, about how "ethnic conflict" in the making can create "monsters" out of "normal" human beings...
An alternative voice tells us how the "Cyprus conflict" has affected the human hearts, whether they are Greek Cypriot or Turkish Cypriot and describes the underlying worries, the concerns of Cypriots, and the deep wounds that need a process of healing.

The book shows us the topography of the human heart from a Mediterranean island through the eyes of a woman writer, breathing life into the silenced voices, whom you have not heard before.

At the same time this book is a source book of oral history containing a wealth of information not to be found elsewhere. It is a must for every historian and political scientist studying the history of Cyprus and it is warmly recommended to all those diplomats and politicians who are trying to find solutions for this eternal conflict.
The author is a Cypriot journalist writing for YENIDUZEN newspaper in the northern part of the island and ALITHIA newspaper in the southern part of Cyprus.

These articles were published in the Sunday edition of the Greek Cypriot newspaper ALITHIA in 2004.