Peleus
Studien zur Archäologie und Geschichte Griechenlands und Zypern
Herausgegeben von Reinhard Stupperich und Heinz A. Richter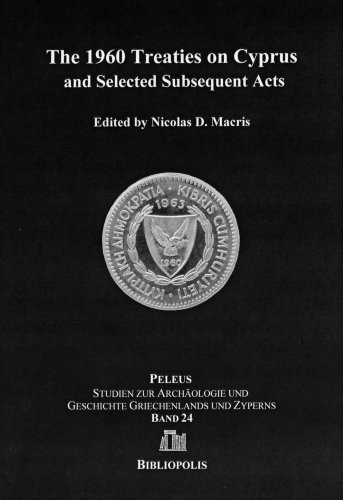 Band 24
Nicolas D. Macris (ed.), The 1960 Treaties on Cyprus and Selected Subsequent Acts
(2003) 216 pages, 3 maps, 8, hardcover, ISBN 978-3-447-05971-8 € 32.50, online bestellen
This volume presents the complete collection of the Treaties signed in Nicosia, Cyprus, on 16 August 1960, the day on which Cyprus became Independent.

The Treaties in question are collectively designated as the 1960 Treaties on Cyprus. The collection is supplemented by selected subsequent Acts related to the 1960 Treaty of Establishment of the Republic of Cyprus. This along with fourteen Exchange of Notes between the United Kingdom and Cyprus, contained in the volume and associated to the Treaty of Establishment, are the basis of the foundation of the Republic. The Acts consist of bilateral instruments between Cyprus and the United Kingdom, signed between 1960 to the present. Also, texts of references to the Sovereign Base Areas of the United Kingdom (SBAs) in Cyprus, contained in the 1972 Treaty of Accession of the UK to the European Economic Community, the 1997 Treaty Establishing the European Community, as well as the two Protocols to the 2003 Treaty of Accession of New Member States to the European Union, are included. The aforementioned Protocols define arrangements applicable to the SBAs and Cyprus.

This publication, researched and edited by Ambassador Macris, seeks to be a vade mecum concerning the fundamental Treaties giving birth to the Republic of Cyprus and important additional Acts dealing with specific aspects of Cyprus´ Accession to the EU. For those interested in the 2002 United Nations Secretary General Plan for a Comprehensive Settlement of the Cyprus Problem, as revised, the collection is a useful reference companion.